Case Studies
Glass partition wall systems emphasise the unusual design of the Novotel Hotel Heathrow
If you look through the reviews of the Novotel London Heathrow Airport, alongside the usual comments of 'new, clean, comfortable', terms such as 'modern design' and 'unusual atmosphere' appear surprisingly often. GEZE products, such as our glass partition wall system and our automatic sliding doors, are also behind these guest reviews.
GEZE is involved in all development stages of a project
If we are to optimally support our customers, it is important that we are involved early on in a project. Especially if there are special design and aesthetics demands, as this can prevent unnecessary and sometimes laborious reworking. We make use of a Global Account Management (GAM) for this, which supports our customers from the beginning of a project right through to ongoing service and maintenance. Right from the start, the GEZE UK GAM team, who are responsible for the hotel group, worked closely with the Nine Group builders and developers, the London interior architects Koncept Interior Design, and the Kent-based ironmongers Franchi plc.
The full GEZE UK team collaborated closely on the project from sales and distribution to service and finance, they worked together to accommodate the particular requirements of the client, carrying out site visits and advising on issues surrounding our installations. The outcome is a very impressive hotel which really raises the bar within the sector. It is a hotel with many fabulous features that clearly demonstrates that affordable luxury is achievable.
Andy Howland, Sales and Marketing Director at GEZE UK
Automatic sliding doors at the hotel entrance - at their best with a GEZE Slimdrive
It's all about first impressions, especially for hotels that firstly want to impress their guests, and secondly also want to welcome them conveniently and accessibly. Therefore, a good hotel needs functional, safe doors, but ones that also fit with the design and support guest convenience as 'invisibly' as possible. GEZE Slimdrive SL NT is perfect for these demands: an automatic linear sliding door system for emergency exit routes, which is also ideal for glass façades with the highest design expectations. With a height of just 7 cm, the Slimdrive installed here is almost invisible, operates practically silently, yet can move weights of up to 125 kg. Slimdrive is ideally suited to buildings with high visitor numbers, such as the Novotel which is located right at Heathrow Airport. Sensors on the doors ensure safety, so that children's hands or people standing in the doorway do not get trapped in the sliding doors.
Automatic sliding doors - GEZE Slimdrive greets hotel guests
Our automatic sliding door fits ideally into the staircase up to the reception, and together with the baldachin canopy, creates an impressive experience on entering the hotel.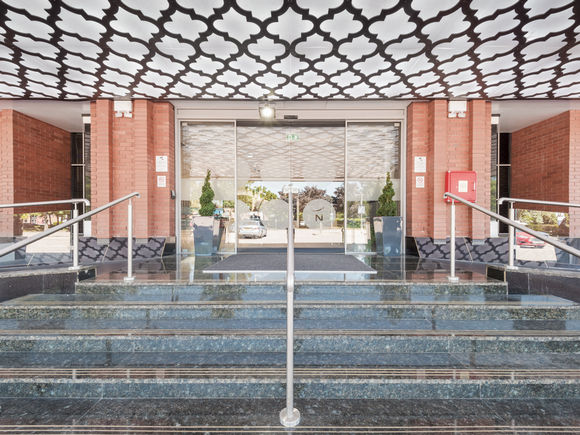 The GEZE Slimdrive SL NT sliding door … © GEZE GmbH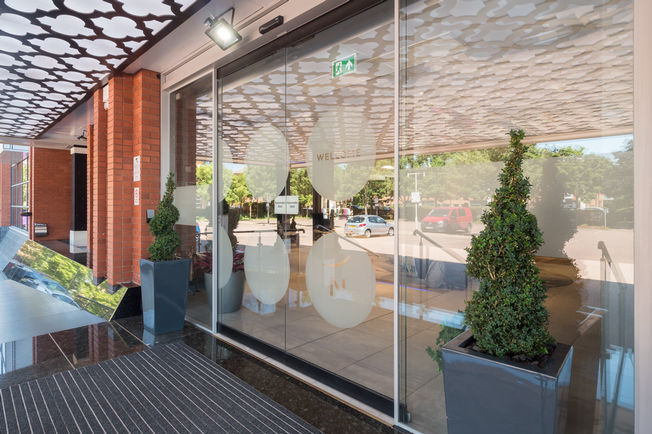 enables convenient, accessible … © GEZE GmbH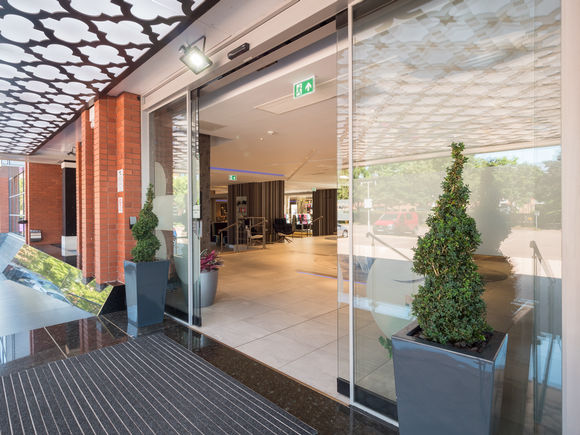 and safe entry into the lobby of the hotel. © GEZE GmbH
A variety of room partitioning designs, thanks to manual sliding wall systems by GEZE
In the interior of the hotel, the room partitioning between the bar and restaurant area is an immediate eye-catcher. Here, our customised manual sliding wall system (MSW) helps to open or partition the room for different purposes, such as private events or breakfast service. The glazed panels – nine in total – harmonise with the natural shapes and patterns of sky and clouds, and fit perfectly into the airy feeling of the room. With the SmartGuide roller carriage developed by GEZE, all leaf variants can be implemented conveniently, simply and extremely user-friendly. The intelligent glass partition wall system thus enables the consistent creation of spacious, contemporary architecture and sets benchmarks in the unique design of the bar and restaurant area.
Learn more about manual sliding door systems
Glass partition wall system
Our variable and easy-to-operate glass partition wall system allows the same space to be configured in many different ways with no great effort, and without making the space feel restricted.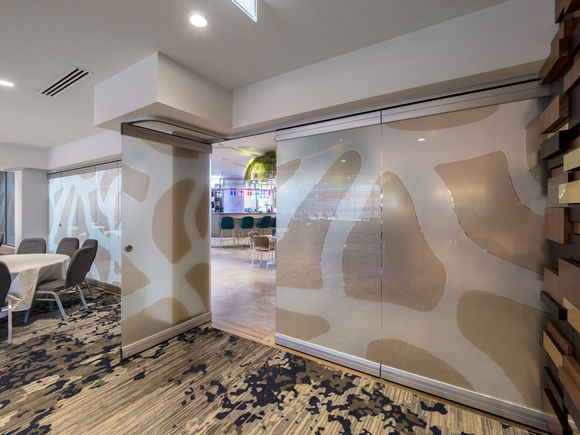 The manual sliding wall system by GEZE is elegant and easy to operate. © GEZE GmbH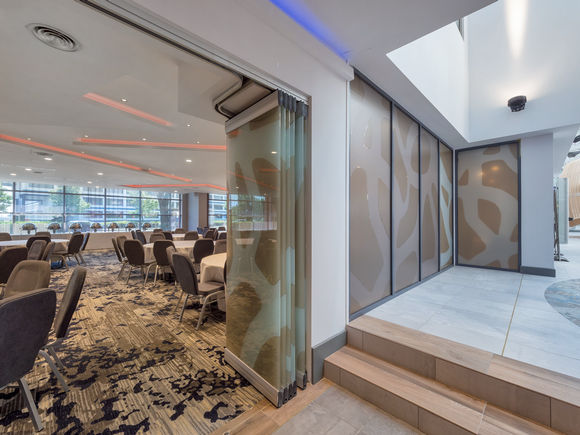 A variety of combinations are possible, whether open, … © GEZE GmbH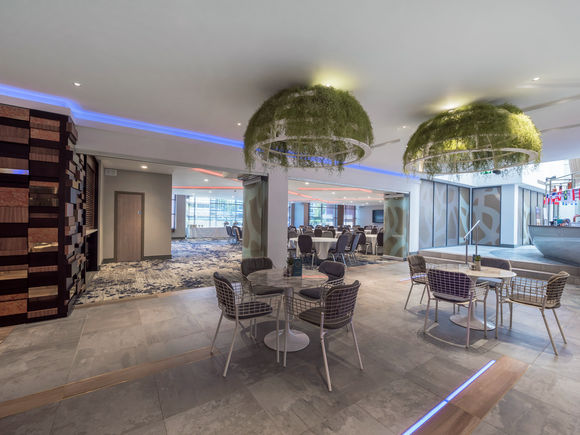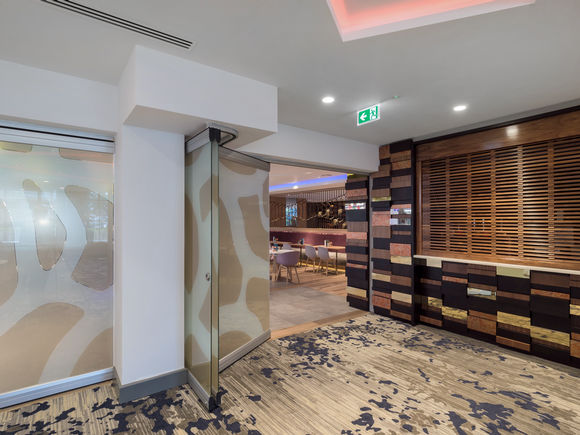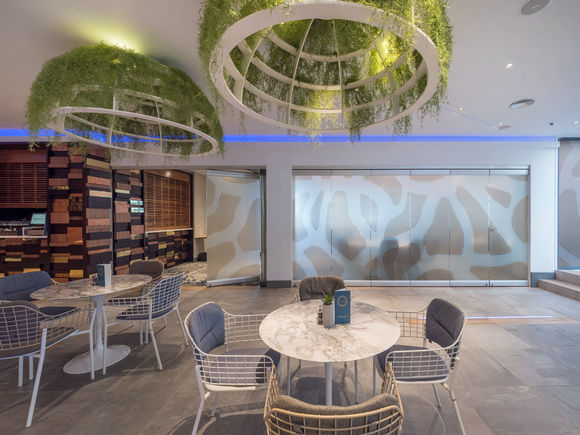 Safe and quiet door closing - important for the convenience of hotel guests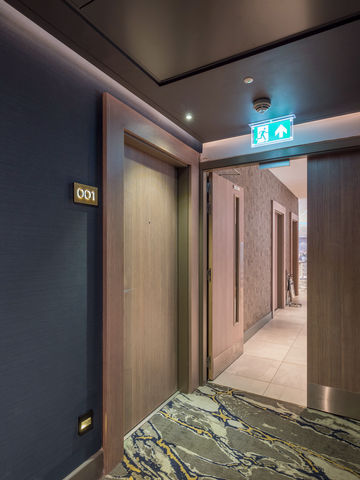 GEZE TS 2000 door closer © GEZE GmbH
Hotels have many doors, with lots of different demands to meet - and the Novotel Heathrow is no exception. The hotel boasts over 166 rooms, a gym, a library, meeting rooms, a restaurant and a roof-top bar with a view of the airport runway. 'Peace' and 'noise reduction' are the key subjects for hotel guests - especially near an airport. It's common in hotels to hear doors slamming when guests leave their rooms. Not here: our GEZE door closers are used on all the doors to ensure they closed virtually silently, and so not disturb other hotel guests. This is achieved thanks to the adjustable closing force, which can be individually set depending on the weight of the door. At the same time, they ensure that the doors are closed safely, to satisfy legal fire protection regulations.