Service & original parts
Comprehensive service solutions from GEZE
Consistently reliable and efficient customer service is one of our key goals. That's why GEZE offers you individual and customised services. We advise you on your products and services across their entire life cycle. We find the right solution for by personal consultation.
Are you looking for spare parts?
Our modern replacement parts storage facility contains the full range of original replacements parts: for older systems as well. We offer complete advice as well as speedy availability of parts which we can get to you the next day if necessary.
Please contact us via phone +971-4-806-3000 or e-mail:
Modification & modernisation
From consultation to installation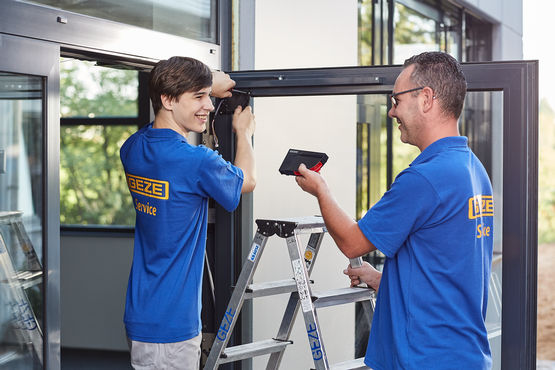 Our expert team supports you when converting outdated equipment. © Karin Fiedler / GEZE GmbH
Generally speaking, the expected lifetime and useful life of building technology has always been shorter than that of the building itself. But new standards and legislation are changing expectations, especially with regard to building safety.
GEZE supports you in modifying outdated equipment to improve the utility and safety of your systems. Modernisations bring the products up to the latest technical standards. In addition, key functional parts can be retrofitted to improve operating properties. GEZE offers forward-thinking product solutions and long-term expertise.
Downloads
Find key information and document to download here