GEZE presents Digital Building Days for the first time
In our digital live event from 17 - 19 May, we will inform you about informative topics on the subject of construction: How do fire protection and accessibility go together? What new opportunities does BIM offer in terms of integrated building planning? What is special about the new Revo.PRIME revolving door, and how is it installed? What is the difference between ZiE (approval in individual cases) and vBG (project-related type approval)? Enjoy live introductions, presentations, installation demos and much more!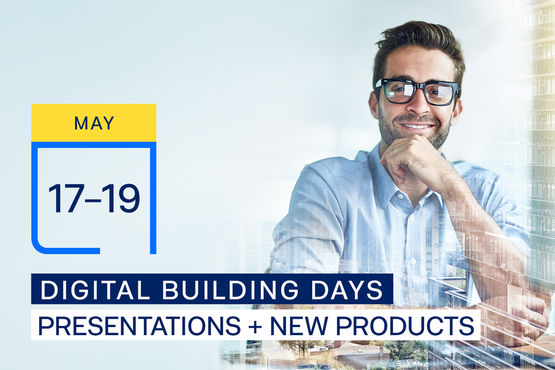 Date: 17.-19. may 2022
Location: digital
Our programme highlights:
On 17 May 2022 at 02.45, we will be talking to buildings surveyor Maynhard Schwarz on the topic of 'accessible self-rescue: ZiE or vBG'.
Join us on 18 May 2022 at 04.15 as our expert Sören Eilers explains how intelligent window ventilation can support energy-efficient construction.
Or tune into the live presentation by Olaf Thies on 19 May 2022 at 11.00 on the subject of 'Integral Planning with BIM projects'.
Programme overview
- All times correspond to Central European Time (CET) -
Time
Title
Description
8:45 – 9.00
Keynote Speech

Björn Kage, Managing Director Sales Germany

9.00 – 9.45
Close doors quietly and securely

Learn how to close your door reliably and silently even in challenging conditions: Our TS 5000 SoftClose closes every door gently and securely. It promises the optimal balance between power and closing speed – both in windy and suction conditions as well as in changing pressure conditions.

Martin Jedynak, Technical & commercial Sales Consultant

10.00 – 10.45
Fire protection & accessibility – how do they fit together?

Many people are convinced that fire protection and accessibility are mutually exclusive – especially when it comes to fire protection doors. Learn from different real use cases that there are in fact solutions for these supposed conflicting demands.

Olaf Thies, Architect & Trainer for Planners

11.00 – 11.15
Insights into GEZE production

Want to know our process of manufacturing door closers? Come with us! We'll show you all the main steps in the process – from the raw material through to the packaged door closer!

Jasmina Brenner, Head of Global Industrial Engineering

11.30 - noon
Virtual product world: Welcome to our trade fair booth
Discover our virtual trade fair booth. A GEZE consultant will welcome you and guide you around. He will show you the exhibited GEZE products and solutions – from the new TS 5000 SoftClose door closer and the MSW Comfort sliding wall system to GEZE INAC, access control of the new generation.
01.00 – 01.45
The most beautiful way to say welcome: Revo.PRIME

Maximum design appeal – minimum canopy height: Learn all about the characteristics and top features of the Revo.PRIME revolving door (canopy height 75 mm, 30% less energy consumption). You will also get exciting insights into how the product was developed.

Thomas Lehnert, Business Solutions Manager
Florian Süpfle, Planning Consultant / dep. Branch Head

02.00 – 02.30
Easy & quick installation: the Revo.PRIME revolving door

Our latest product is not just a visual highlight, it' also easy and quick to install and set up. Don't believe it? We'll show you how – from the planning to ongoing operation.

- Video -

02.45 – 03.30

Accessible self-rescue: ZiE or vBG

During our expert discussion, we highlight the area of conflict between fire protection and accessibility with the topics of consent in individual cases (ZiE) and project-related type approval (vBG). We answer questions such as: When is a vBG required? How is it applied for? What are the challenges of implementation?

Oliver Roth, Specialist Planner Door & Window
Maynhard Schwarz, Dipl.-Ing. Fire Inspector
- All times correspond to Central European Time (CET) -
Time
Title
Description

8:45 – 9.00

Keynote Speech
Björn Kage, Managing Director Sales Germany
9.00 – 9.45
Liveable buildings of the future – expectation vs reality?

What makes a building liveable? Who do we create it for? What makes you feel good in it? Our expert discussion will cover this and other questions. Meta topics such as digitalisation, urbanisation and sustainability will provide plenty of scope and triggers for exciting and controversial discussions.

Expert talk with Marco Sperling, Dipl. Ing. Architecture M. Sc. ClimaDesign general manager ppp + Sören Eilers, Consultant

10.00 – 10.20
Quality assurance of safety-relevant products

How does GEZE ensure quality? We will show you how at GEZE, we do everything we can to continually monitor and ultimately guarantee the safety of our products. Look forward to several insights into our products, from development through to continued quality assurance throughout the manufacturing process.

Adam Rypel, Head of Validation & Benchmarking

10.45 – 11.30
Close doors quietly and securely

Learn how to close your door reliably and silently even in challenging conditions: Our TS 5000 SoftClose closes every door gently and securely. It promises the optimal balance between power and closing speed – both in windy and suction conditions as well as in changing pressure conditions.

Martin Jedynak, Technical & commercial Sales Consultant

11.30 – 12.00
Virtual product world: Welcome to our trade fair booth
Discover our virtual trade fair booth. A GEZE consultant will welcome you and guide you around. He will show you the exhibited GEZE products and solutions – from the new TS 5000 SoftClose door closer and the MSW Comfort sliding wall system to GEZE INAC, access control of the new generation.
01.00 – 01.45
The most beautiful way to say welcome: Revo.PRIME

Maximum design appeal – minimum canopy height: Learn all about the characteristics and top features of the Revo.PRIME revolving door (canopy height 75 mm, 30% less energy consumption). You will also get exciting insights into how the product was developed.

Thomas Lehnert, Business Solutions Manager
Florian Süpfle, Planning Consultant / dep. Branch Head

02.00 – 02.45
Enable integrated planning with BIM projects

BIM has long been the magic term in the industry. Our expert will show you how best to use BIM in door planning, the interfaces and programs you need, and will walk you through the detailed planning of complex planning projects based on clear case studies.

Olaf Thies, Architect & Trainer for Planners

03.00 – 03.45
Wrong certification – what are the liability risks

Accessibility certification – what are the requirements, what do you need to be aware of, where can you find information, and who is liable if the certification is wrong? We will explore all this in conversation with an expert from the German Sustainable Building Council (DGNB).

Günther Weizenhöfer, Team Lead Pre Sales Development

04.15 – 05.00
Energy-efficient construction – with intelligent window ventilation!

Energy-efficient and sustainable building are the top topics of our times. Using several practical examples and simulations, we will show you how GEZE window drives enable natural ventilation, solar input and night-time cooling – and so effectively support sustainability goals.

Sören Eilers, Consultant
- All times correspond to Central European Time (CET) -
Time
Title
Description
9:00 – 9.05

Welcome to the Digital Building Days

Welcome by Oliver Roth, Planning Consultant Door & Window
9.05 – 9.45
The most beautiful way to say welcome: Revo.PRIME

Maximum design appeal – minimum canopy height: Learn all about the characteristics and top features of the Revo.PRIME revolving door (canopy height 75 mm, 30% less energy consumption). You will also get exciting insights into how the product was developed.

Thomas Lehnert, Business Solutions Manager
Florian Süpfle, Planning Consultant / dep. Branch Head

10.00 – 10.45
Close doors quietly and securely

Learn how to close your door reliably and silently even in challenging conditions: Our TS 5000 SoftClose closes every door gently and securely. It promises the optimal balance between power and closing speed – both in windy and suction conditions as well as in changing pressure conditions.

Martin Jedynak, Technical & commercial Sales Consultant

11.00 – 11.45
Enable integrated planning with BIM projects

BIM has long been the magic term in the industry. Our expert will show you how best to use BIM in door planning, the interfaces and programs you need, and will walk you through the detailed planning of complex planning projects based on clear case studies.

Olaf Thies, Architect & Trainer for Planners

11.45 – 12.15
Virtual product world: Welcome to our trade fair booth
Discover our virtual trade fair booth. A GEZE consultant will welcome you and guide you around. He will show you the exhibited GEZE products and solutions – from the new TS 5000 SoftClose door closer and the MSW Comfort sliding wall system to GEZE INAC, access control of the new generation.
01.00 – 01.30
Easy & quick installation: the Revo.PRIME revolving door

Our latest product is not just a visual highlight, it' also easy and quick to install and set up. Don't believe it? We'll show you how – from the planning to ongoing operation.

- Video -

01.45 – 02.30
Fire protection & accessibility – how do they fit together?

Many people are convinced that fire protection and accessibility are mutually exclusive – especially when it comes to fire protection doors. Learn from different real use cases that there are in fact solutions for these supposed conflicting demands.

Olaf Thies, Architect & Trainer for Planners

02.45 – 03.30
Quality assurance of safety-relevant products

How does GEZE ensure quality? We will show you how at GEZE, we do everything we can to continually monitor and ultimately guarantee the safety of our products. Look forward to several insights into our products, from development through to continued quality assurance throughout the manufacturing process.

Adam Rypel, Head of Validation & Benchmarking

03.45 – 04.00
Insights into GEZE production

Want to know our process of manufacturing door closers? Come with us! We'll show you all the main steps in the process – from the raw material through to the packaged door closer!

Jasmina Brenner, Head of Global Industrial Engineering