Topics
Fire protection doors as an effective measure for preventive fire protection
The effects of fire can be extremely destructive, and lives and livelihoods can be destroyed in a very short period of time. Preventive fire protection helps to avoid fires, and tackle them effectively if they do break out. Fire protection measures in door areas therefore play a crucial role: fire protection doors delay the spread of fire and give people within a building a life-saving advantage.
Fire protection - effectively combat fire
Whether public facilities, office buildings or schools – people primarily judge buildings in terms of comfort, functionality, aesthetics and safety. In particular, the demands on safety technology have significantly increased in recent years - particularly in the area of fire protection.
The risk of fires in buildings is high, and the numbers are alarming for Germany alone:
Around 200,000 fires per year
An average of 125,000 euro of operational fire damage
Around 200 big fires with millions of euros of damage and devastating effects: 40 per cent of businesses file for insolvency immediately after the disaster, and 70 per cent within a year.
Fires are vicious and unpredictable. They usually come as a surprise and cause huge damage. Which is why targeted protective measures are needed to tackle building fires.
What does fire protection mean?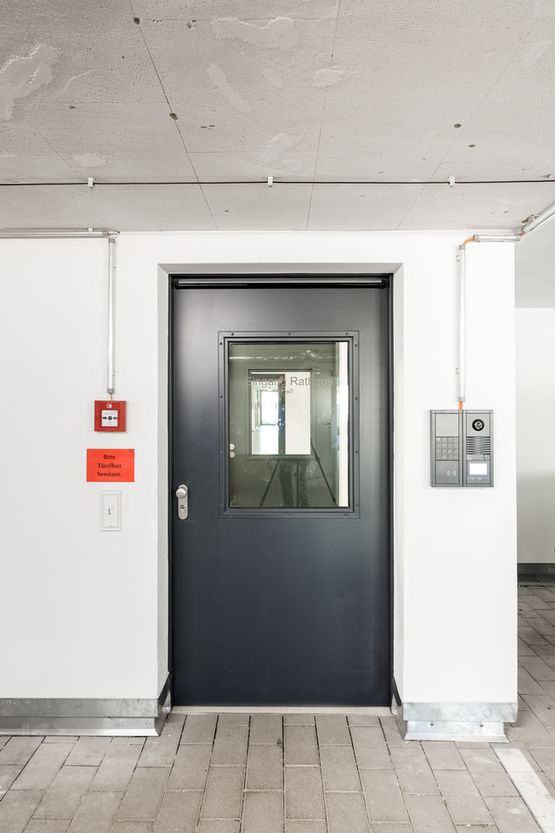 Fire protection doors as a technical plant fire protection tool © Jürgen Pollak / GEZE GmbH
Fire protection covers all protective measures which prevent the occurrence and spread of fires and smoke, and which permit self-rescue and effective extinguishing actions during a fire. There are two types of fire protection: preventive and defensive fire protection.
The key role of preventive fire protection is to protect escape and rescue routes from fire and to keep them smoke-free. This also contributes to efficiently avoiding damage in the event of a fire.
Preventive fire protection consists of structural, technical and organisational measures:
all structural fire protection measures involve creating or adjusting structural systems. They focus on how materials behave in a fire and on components' fire resistance properties.
The technical system aspect of fire protection covers all technical systems such as fire alarm systems, fire extinguishing systems, smoke extraction systems and fire protection doors.
Organisational fire protection relates to appointing fire protection officers, fire maintenance officers, preparing fire protection plans and the Fire Protection Ordinance.
Conversely, defensive fire protection covers all measures which effectively extinguish a fire that has broken out. This is predominantly a task of the fire service.
Tip: You couldn't be at BAU Online 2021 or missed a live presentation? You can find a recording of all GEZE technical talks and product presentations in our media center.
To the media center
Fire protection doors as effective fire protection closers
Fire protection doors play a key role in preventive fire protection. The key task of self-closing doors is to prevent fire from breaching openings in fire-retardant or fire-resistant walls. It is critical for doors to close reliably in the event of a fire.
Fire protection door fire resistance classes
How long a fire protection door remains fire resistant depends on its fire resistance class. Classification is currently governed by the German standard DIN 4102-2. In the future, this will be governed Europe-wide, based on the European standard DIN EN 13501-2 and the product standard DIN EN 16034. As a result, the names of the classes will also change. At this moment in time it is not clear when the European regulations will have to come into effect.
The new European abbreviations will in future be:
Building inspection requirement

Product

Abbreviation according to DIN 4102-5

Use in accordance with DIN EN 16034 and

classification in accordance with DIN EN 13501-2

Fire-retardant,

tightly closing,

self-closing

Fire protection closer

T30

EI2 30-SaC...

Fire-retardant,

smoke-tight,

self-closing

Fire protection closer with smoke

protection feature

T30-RS

EI2 30-S200C...

Highly fire-retardant,

tightly closing,

self-closing

Fire protection closer

T60

EI2 60-SaC...

Fire-resistant,

tightly closing,

self-closing

Fire protection closer

T90

EI2 90-SaC...

Fire -resistant,

smoke-tight,

self-closing

Fire protection closer with

smoke protection feature

T90-RS

EI2 90-S200C...

Fire resistance
120 minutes,

tightly closing,

self-closing

Fire protection closer

T120

EI2 120-SaC…

Smoke-tight,

self-closing

Smoke protection closer

RS

S200C...

Fire-resistant glazing
Fire-resistant glazing
F90
EI 90
Fire protection door classification differentiates between single leaf doors (T130-1) and double leaf doors (T30-2). The choice of fire resistance class depends on how the building will be used and the wall in which the door will be built.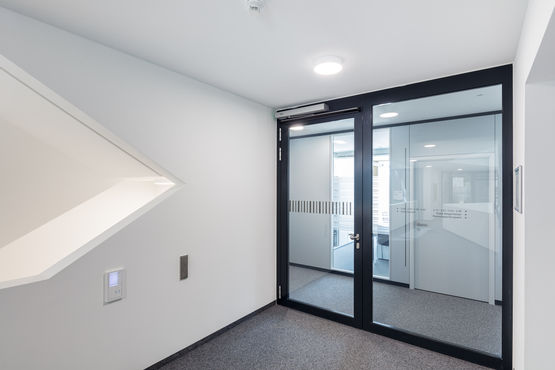 Fire protection doors secure openings in fire sections. © Jürgen Pollak / GEZE GmbH
The German Building Code and special building regulations
Fire protection doors must be fitted as fire protection closers in buildings where this is prescribed by the applicable Federal State building Code and the respective special regulations. Emergencies highlight the important of having doors installed correctly. When correctly positioned, fire protection doors create safe fire sections, i.e. areas in which fires, combustion gases and heat are sealed. Rooms exceeding 40 m in length, or a surface area of 1,600 m² must be properly sub-divided into fire sections using doors.
Fire protection doors must close reliably in the event of a fire. Various techniques can be used to achieve this, such as door closers, door drives and hold-open systems. The reliability of the system is critical in the event of a fire, and that is the responsibility of door owners, door manufacturers and door fitters. Correctly maintaining door systems is urgently advised because it saves lives. Documenting maintenance measures also exonerates those responsible for fire protection in the event of a fire.
Fire protection doors are required to comply with stringent demands in terms of planning, installation and operation. In Germany, the required criteria are defined in DIN 4102-5 and DIN EN 1634-1.
Fire protection closers may also be smoke proof, in order to prevent the spread of smoke. Fire protection doors are only smoke proof if they have been equipped with extra fittings. DIN 18095 regulates the criteria for smoke protection doors.
Safety functions in an area of interaction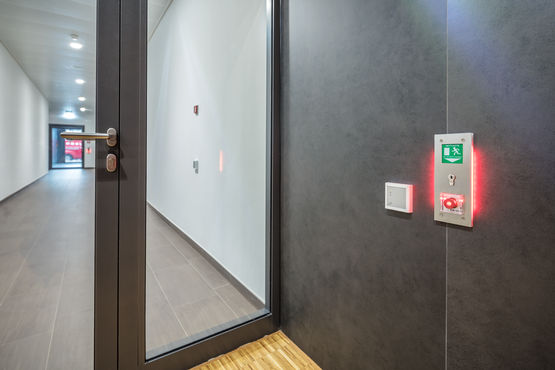 Intelligent system solutions for fire protection doors in escape routes
The safety functions of fire protection doors face a particular contradiction in escape and rescue routes because locks must prevent unauthorised access in non-hazardous situations. After a person has passed through, the doors must be closed via the independent locking, and allow the building to be evacuated quickly in an emergency. The ideal solution for this is a combination of a door control unit, an escape door lock and a motor lock.
In this combination, door opening and closing procedures in escape and rescue routes are secured and monitored. Electronic components keep doors in escape routes closed. Activated by a fire alarm system, or in the event of a power failure, the locking element automatically locks if a motor lock is used. In the direction of flight, the door can still be passed through since the emergency exit closure is automatically unlocked in the event of a fire alarm or power failure: the emergency push button in the door control unit opens the door.
Preventive fire protection with intelligent systems from GEZE
For preventive fire protection, GEZE offers complete solutions that combine individual safety requirements in a single intelligent system. Door closers ensure the safe closing of doors that must always be closed and monitored or must be closed and monitored at least in the event of a fire.
This is the case in particular with changing pressure ratios, as is the case in interlocking door systems and staircases, or with wind and suction. Door closers such as the TS 5000 SoftClose are ideal under these conditions, as they can ensure the optimal relationship between force and closing speed.
However, day-to-day building use require doors to be opened some of the time (e.g.to transport goods). A hold-open device is needed to keep these fire protection doors (smoke protection doors) open. GEZE has a wide range of hold-open systems available, all designed specifically for use in fire prevention systems. GEZE hold-open systems can be used to hold fire protection doors open permanently or temporarily and thus provide barrier-free access, yet close safely in the event of a fire. With the FA GC 170 radio extension, existing buildings can also be retrofitted to ceiling detectors or interruption push-buttons without additional cable routing.
As an expert in the reliable opening and closing of fire protection doors, GEZE supplies premium quality tailor-made solutions. Our broad range of products covers everything from hold-open systems to door closers, drive systems and activation devices.
Professional consultancy
Fire protection is enshrined in law and must be taken into account from the start when planning buildings. GEZE is familiar with international fire protection regulations and has experts available for different types of buildings. GEZE experts are happy to support you at the design stage or with your project management.
Expert knowledge applied in practice
Numerous demands need to be taken into account when installing fire protection doors to ensure proper fire protection. GEZE reliably assembles and documents fire protection solutions. Installation companies are also required to implement appropriate fire protection measures.
Service from a single source
Fire protection doors need to be maintained at regular intervals. In Europe, fire protection doors may usually only be inspected by certified staff. The experts are obliged to correctly implement their tasks, and are liable for this.
GEZE is the right contact person for the maintenance of fire protection doors and intelligent system solutions. Regular service and maintenance by qualified staff is essential for the safe operation and long-term availability of fire protection doors. GEZE Service provides flexible and individual maintenance and service packages.