GEZE solutions to improve hygiene measures
Airing rooms regularly, avoiding contact where possible, and frequently washing and disinfecting our hands – we are all aware of the growing importance of hygiene measures. However, complying with hygiene measures presents new challenges, both in our daily lives and in the workplace. There is a need for innovative solutions to improve hygiene while offering added convenience, especially in buildings. With our specialist industry expertise, we help to improve hygiene in buildings with reliable, future-proof and highly economical solutions.
Improve hygiene in buildings – with GEZE door, window and safety systems
Convenient and hygienic low-contact solutions are in high demand, particularly in the hospitality and retail sectors but also in education and healthcare settings. Check out our brochures to discover exactly how our automatic door and window systems not only make buildings safer but also offer added convenience and liveability.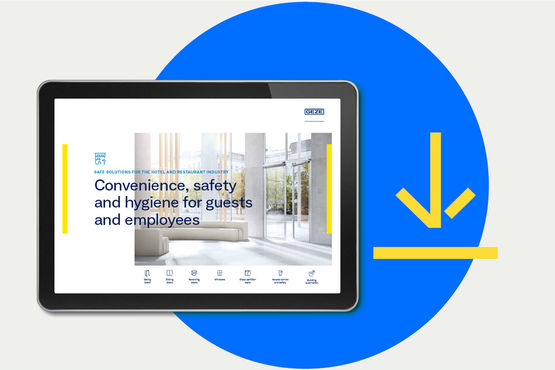 Greater comfort, hygiene and safety for hotels and hospitality
In hotels, restaurants, bars and cafés, the wellbeing of guests is always the top priority. This is not only true in times of Covid-19, but will also remain the case in future. Discover systems and retrofitting solutions that create a pleasant atmosphere while ensuring greater hygiene and safety – and even cut costs over the long term.
To the brochure for hotel and restaurant industry (PDF | 1.22 MB)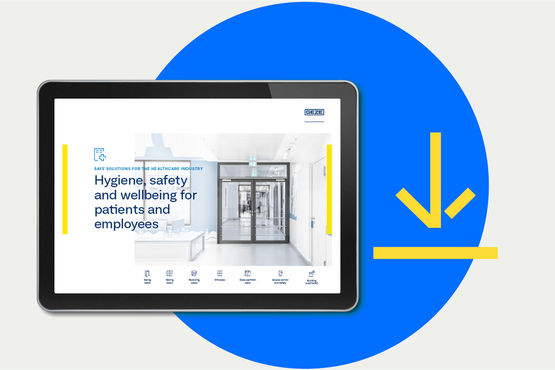 Safe, hygienic solutions for the healthcare sector
Hospitals, doctor's operations and care facilities are subject to stringent hygiene and safety regulations and must also ensure accessibility. Door, window, building and safety systems need to be perfectly attuned to each other. Ultimately, the health of patients, staff and visitors is at stake.
To the BROCHURE for the healthcare sector (PDF | 5.79 MB)
Our GEZE experts can help you design customised solutions
Hygiene requirements and regulations vary from building to building and sector to sector, which is why we tailor our solutions to the specific setting and scenario. Our GEZE Customer Solution team would be happy to help you design and plan hygiene measures for your building.