Find the right sliding door fittings for your needs – GEZE can help.
From glass to wood or plastic – sliding doors allow for individual, flexible and functional partitioning of your office or living space. Sliding doors can be used in a diverse range of applications, and to meet a wide range of sliding door fitting specifications. Choosing the right fitting system is essential to ensure the sliding door runs smoothly. The fitting system consists of a track with a roller carriage on the inside. GEZE sliding door fittings ensure your sliding door runs smoothly and cleanly. Our comprehensive product portfolio helps your doors glide gently, and open and close quietly even under heavy loads.
GEZE sliding door fittings – highly resilient and flexible in use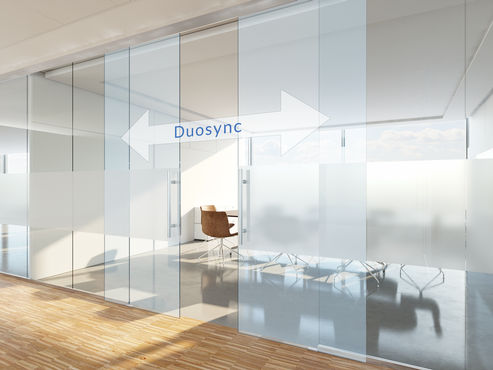 GEZE solution for high-traffic sliding doors in internal applications: GEZE Perlan 140 Duosync – the sliding door fitting for double leaf glass doors that open synchronously. © GEZE GmbH
Whether as a partition for passages, as a room divider, to separate walk-in cabinets or for use in external applications – sliding doors enable flexible planning and great creative freedom. The biggest advantage of using sliding doors for partitioning is the design aspect. Glass sliding doors, in particular, create light rooms that do not feel restrictive. They can be left open without creating a visual disruption, can be closed as needed, and do not take much space to install. In addition, thanks to sliding door fittings with integrated draw-in damping, the sliding doors open quietly for added comfort.
Sophisticated technology, high-quality materials and first-class workmanship in sliding door fittings guarantee precise, gentle and quiet movement of the roller carriage and make the fitting systems extremely durable with a long life.
Different sliding door fittings are needed depending on the type and usage of the sliding door. We have thus created an overview of our sliding door fitting product range for you here, outlining the differences between our Levolan, Perlan, Rollan and Apoll product series. Do you have specialised needs for sliding door fittings that are not already covered by one of our products? Please contact us; we also offer solutions customised to your needs.
Five questions to help you find the right sliding door fittings
Different specifications and a wealth of variants for sliding door fittings increase complexity for planners. Answer the following five questions, and we will help you to select the right system for your needs from the GEZE sliding door fittings product portfolio.
Fitting system features - direct comparison
| | | | | | |
| --- | --- | --- | --- | --- | --- |
| | Rollan | Levolan | Perlan | Perlan AUT/NT (sliding shutters) | Apoll |
| Leaf weight (max.) | up to 80 kg | up to 120 kg | up to 140 kg | up to 140 kg | up to 600 kg |
| Leaf weight (max.) with draw-in damping | up to 40 kg | no restriction | up to 80 kg | - | - |
| Leaf material (preferred) | Wood | Glass | Wood and glass | Wood | All |
| Corrosion protection | Class 1 | Class 3 | Class 2 | Class 4 | high |
| Application location | inside | inside | Yes, inside and outside | Yes, inside and outside | outside |
| Automation | No | No | Yes | Yes | No |
| For wall and ceiling installation | Yes | Yes | Yes | Yes | Yes |
| For single and multi-leaf door systems | Yes | Yes | Yes | Yes | Yes |
GEZE Fitting Systems at a Glance