Case studies
Impressive: the new dm-dialogicum in Karlsruhe, fitted with door, window and safety technology from GEZE
The new headquarters of German health and beauty store chain dm in Karlsruhe offers space for more than 1,800 employees and guests. As the name dm-dialogicum suggests, the building also offers plenty of space for communication. Interior design, working atmosphere, sustainability and safety were therefore key topics in its design and construction. GEZE accompanied this ambitious new-build project from the outset, offering specialist advice and reliable project management as well as installing modern door, window and safety technologies commensurate with the high standards demanded by the architects, planners and building contractors.
dm-dialogicum: facts and figures
New dm headquarters with 41,000 square metres of floor space
Space for more than 1,800 employees and guests
Total investment of €120 million
Office building design by Stuttgart-based architect Arno Lederer from architectural firm Lederer, Ragnarsdóttir, Oei
Sustainable and efficient energy supply from the building's own photovoltaic systems plus district heating with waste heat utilisation
12,700 square metres of glass, providing lots of natural light
More than 300 door and window systems, smoke and heat extraction systems and safety systems from GEZE provide modern convenience and building security
Welcome to the dm-dialogicum – GEZE revolving doors shape the main entrance
The entrance to any building makes an impression – and first impressions need to be positive. Generously sized GEZE revolving doors shape the entrance to the new dm company headquarters.
The TSA 325 NT revolving door system provides smooth, draught-free access all day long, ensuring that the 1,800 employees and visitors can enter and leave the building quickly and conveniently, even during peak hours.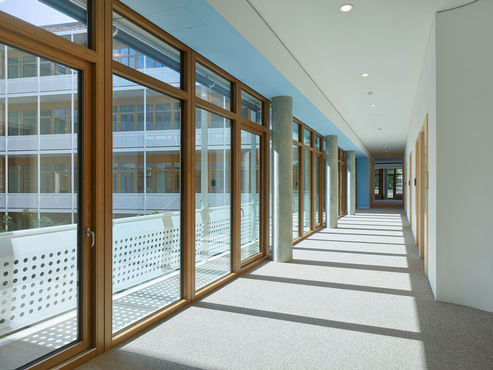 Large windows and glass doors provide ventilation and fill the building with natural light. © Roland Halbe / GEZE GmbH
Escape routes: a key aspect of building security
The dm-dialogicum offers space for over 1,800 employees and visitors. Safe emergency escape and rescue routes are essential, particularly with so many people in the building. The GEZE emergency exit system guides people out of the building quickly and safely. An electric locking system in compliance with the EltVTR – the German standard for electric locking systems in doors on emergency escape routes – has been installed to ensure that escape and rescue routes can be used in case of emergency, but are otherwise not accessible without authorisation.
Safe escape routes thanks to GEZE escape door locks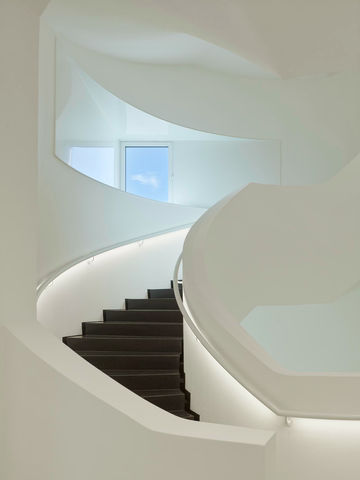 MBZ 300 emergency power control units for SHE drives ensure safety. © Roland Halbe / GEZE GmbH
Installing FTV 320 escape door locks increased the locking force of doors on escape routes, thereby also enhancing overall building safety. The locks' integrated feedback contacts allow the doors to be monitored reliably, while integrated sabotage monitoring secures the lock against manipulation.
Find out more about building safety
Seamless communication ensured by core contact partners at GEZE
A large-scale project such as the dm-dialogicum involves a number of different technical crews. It is crucial that the project managers have an overview of current progress and can rely on everyone involved. The dm project managers had a consistent core of contact partners at GEZE responsible for all technical crews, which ensured seamless communication on site. Consequently, expert advice was always on hand, from the project planning phase to installation and through to the after sales service – a decisive factor in the success of the dialogicum project.
Read more about GEZE industry solutions for office buildings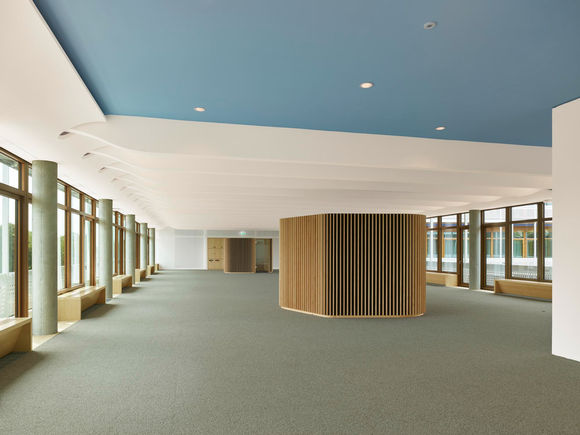 Interior view of a large office in the new dm-dialogicum in Karlsruhe with door, window and safety technology from GEZE. © Roland Halbe / GEZE GmbH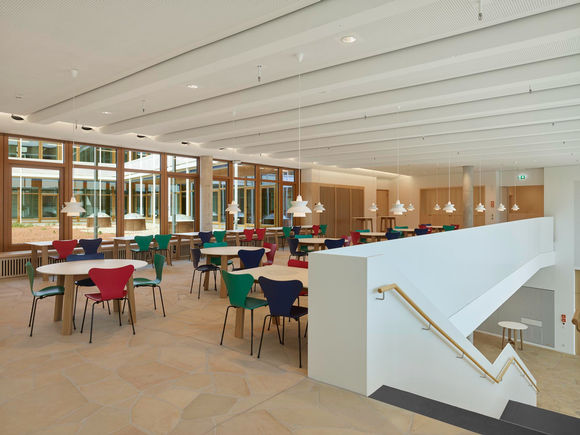 Interior view of the cafeteria in the dm-dialogicum. © Roland Halbe / GEZE GmbH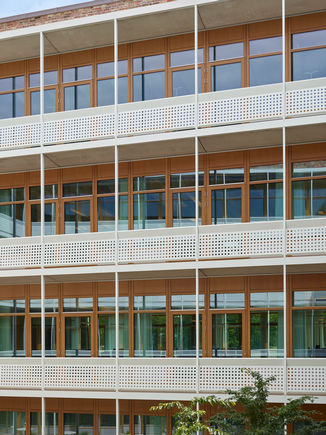 View of the courtyard façade of the dm-dialogicum © Roland Halbe / GEZE GmbH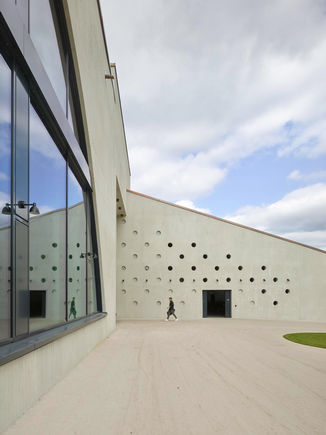 View of the façade of the dm-dialogicum overlooking the access to the bicycle parking with GEZE Slimdrive door system. © Roland Halbe / GEZE GmbH
On a new-build project as ambitious as the new dm headquarters, it's only logical that architects, planners and project managers place an emphasis on technically and aesthetically impressive solutions, down to the finest detail. Having dedicated GEZE contact partners on site was a decisive advantage for the client. By cutting through the red tape, we were able to clarify and implement a number of aspects quickly, without unnecessary bureaucracy and to the satisfaction of our client.
Christoph Keller, Key Account Manager Safety Technology at GEZE
GEZE products installed at the new headquarters of dm
TSA 325 semi-automatic revolving door systems
GEZE Powerturn swing door drives (including 6 drives for escape and rescue routes)
GEZE Slimdrive sliding door drives and 2 Slimdrive EMD swing door drives
MBZ 300 emergency power control units for smoke and heat extraction drives, incl. extensive accessories
SecuLogic TZ 320 door control units for individual emergency exits, complete with key switch and FTV 320 locking element
Slimchain window drives
Integrated and surface-mounted door closer systems
GEZE CB Flex carry bars for fire protection doors